Hi Guys
My name is Rich, and I am a keyboard addict.
A lot of queries come in to us at OcUK regarding what type of keyboard would suit a particular customer.
The truth is, that every peripheral is nearly always chosen because of personal preference.
In this guide I will attempt to highlight the options available to an OcUK customer as well as giving a broad overview on the choices available to a mechanical keyboard buyer.
If you feel you have information that I should add to this guide then please post below. Any contribution would be welcomed
----------------------------------------------------------------------
Dome Keyboards
Many of you will be familiar with standard dome keyboards. Many keyboards use a rubber domed layer above each button, similar to a TV remote. The benefits of this manufacturing method is that it is cheap to produce a keyboard in this way. This also means that a dome keyboard is typically a lot cheaper to buy. Whilst this is the standard of keyboard used by a large percentage of the planet, it is certainly not the best technology as it can be worn out quickly and lose its feel over time.
Dome keyboards do lack some accuracy and many typists don't feel that they offer the feedback they require.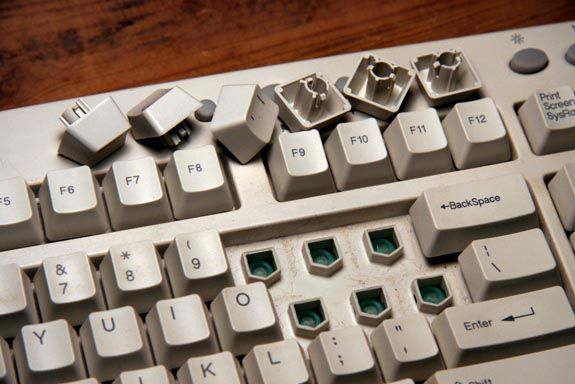 Gaming Keyboards
99% of the time, a Gaming keyboard will be a regular dome technology keyboard with some added extras to make it more appealing to gamers. LED backlighting is a popular addition as are media keys, macro keys and information screens.
A Gaming keyboard often has features to a specific to the type of game it is intended for. FPS orientated keyboards tend to be quite focussed whereas MMO orientated keyboards tend to have lots of additional programmable keys.
Some keyboards have screens to display information also. See the Logitech range for more info.
Most gaming orientated keyboards tend to be dome design also.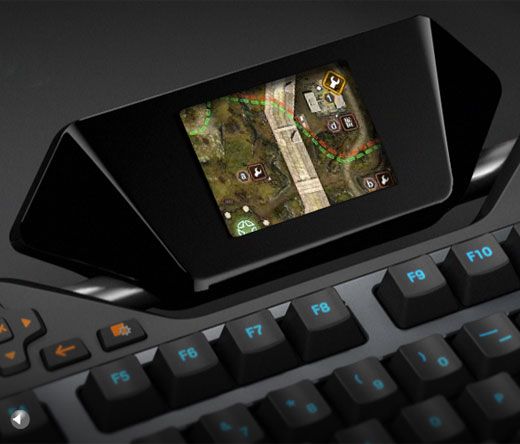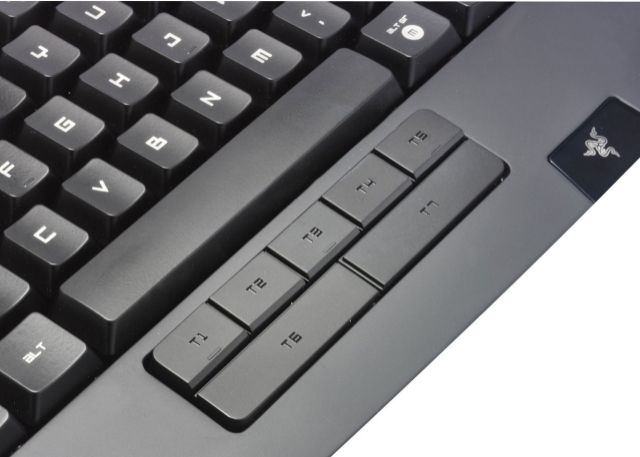 Gaming Key Pads
Some people prefer to use a gaming key pad. Devices like this avoid the need for a gaming keyboard as it allows the user to access commonly used keys from a keyboard in a more focussed product. This is usually a separate device that contains many of the features of gaming keyboards.
The advantage of these devices are that they are usually comfortable and a lot more ergonomically considered than a standard keyboard layout.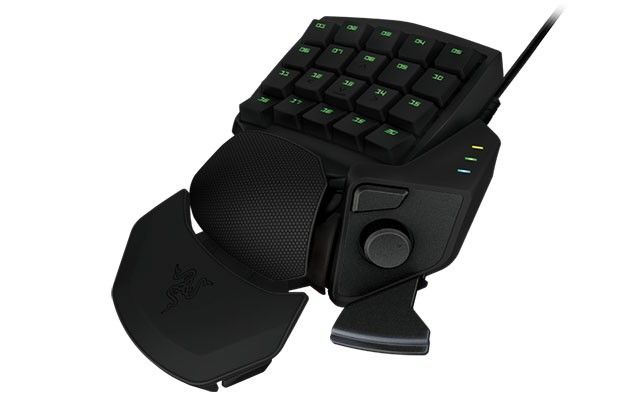 Ergonomic Boards
This type of keyboard is usually designed for typists or office work and is not suitable for gaming. Ergonomic boards are designed to be used for prolonged periods of typing and their design is targeted at reducing strain on the user.
The most popular Ergo board on the market is the Microsoft Natural Ergonomic Keyboard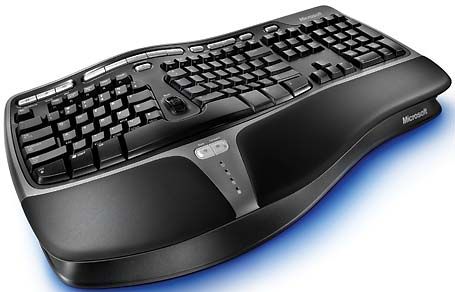 Scissor Switch Keyboards
Scissor switches are most commonly found on laptops. The advantage to this type of board/switch type is that they require little force to actuate and are relatively hard wearing. Another advantage due to the design is that scissor switches allow the design of a keyboard to be very slim. if you have used a laptop before, then you will have used a scissor switch. This type of switch is less common on a desktop keyboard but it does get used and is preferred by some.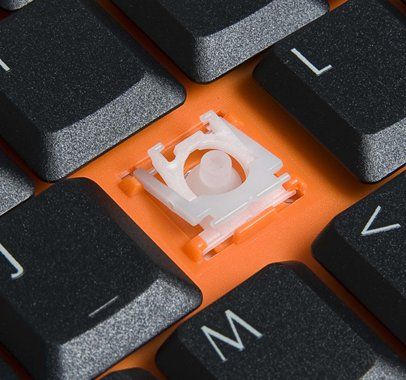 Wireless Keyboards
Wireless boards work off two main technologies. RF and bluetooth. RF generally needs a direct line of sight to the receiver to work correctly whereas bluetooth is a lot more reliable and doesn't require line of sight to use.
Wireless keyboards are a good idea for minimalist desk environments but for many desktop users, a wired keyboard makes a lot more sense.
Wireless is generally the best idea for a Home Theater or media PC.
Some have integrated touchpads or trackballs to make full system use possible from the sofa.
Mechanical Keyboards
Mechanical keyboards are the cream of the crop. A mechanical keyboard is a premium option that offers a whole new world of options up to a user. Due to their increased manufacturing costs and design complexity, they tend to be a lot more expensive than a dome keyboard.
A mechanical keyboard has an individually sprung switch under every key. This type of switch is a lot more hard wearing than a dome board and doesn't have that mushy feel that a worn dome board would have. Using a mechanical board takes some practice until you really appreciate its benefits.
The main advantage of a mechanical board is the feel. If you have never typed on a mechanical keyboard before then you are in for a treat. The feeling is odd to start with but it is something you would be reluctant to not have afterwards. Rubber domes usually need the key to be depressed all the way [bottoming out] to register a keypress. This is not the case with a mech board as the key press usually registers around half way down the keystroke. This makes mech boards the ideal choice for a keen typist.
Mechanical boards are durable too. Most mechanical switches feature a 50 million + actuation life cycles which is 10-20 times more than that of a dome keyboard.
Mechanical Keyboard Switch Types
Mechanical keyboards are ideal for gaming, typing and general use. The advantage to a mechanical board is that they present the buyer with several options to choose from.
Linear Switches
Cherry MX Black
switches are the oldest style cherry switch. It has a stronger spring which helps the switch 'reset' faster making them ideal for gaming as people usually feel that they are more 'responsive'. They are commonly used in RTS gaming where the rapid reset rate is a popular requirement and the extra weight to the press means fewer accidental keystrokes. This switch type is not considered to be ideal for operators who do a lot of typing as the higher force required for actuation can lead to fatigue.
No tactile feedback. No click. 60g actuation force.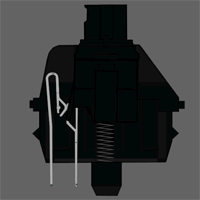 Cherry MX Red
switches are a recent addition to the range and are very similar to the black in design. They use a spring which requires much less actuation force than a Black switch meaning that they are ideal as an all rounder for typing and gaming due to the light weighting of the key presses and the quick actuation. These are becoming increasingly common in gaming keyboards and are generally a little more expensive than other mech boards as the licensing cost per switch is a little higher.
No tactile feedback. No click. 45g actuation force.
Tactile Switches
Cherry MX Blue
switches are the most common clicky switch. you can tell when someone in the room is using them, usually from another room. Razer love using blue switches in their keyboards and many die hard mech keyboard users feel that they are more reminiscent of the older style mech boards.
The MX Blue is a typist favourite as it has a obvious, audible click around half way through the keystroke that is noticeable through touch also. This is generally considered by many gamers not to be an ideal switch as it has relatively high actuation force. You can see from the animation below that the switch is a lot more complicated utilising a dual switch and carrier design. the white section depressing is where the click comes from.
Strong tactile feedback. Audible click. 50g actuation force.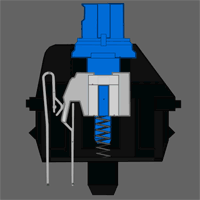 Cherry MX Brown
switches are a tactile switch that do not click like the blue switch mentioned above. This is the most popular non clicky tactile switch and is usually the 'go-to' switch for people new to mech boards. It presents a familiar feel to the dome boards and is arguably the most ergonomically considered switch type. The switch is relatively quiet, has a lighter actuation force than an MX Blue switch and has a noticable bump when a key press is registered giving that tactile feedback.
Light tactile feedback. No click. 45g actuation force.
Cherry MX White 'Milk'
The White or Milk switch as it is sometimes known is a tactile switch with a much higher actuation force similar in weighting to a Cherry black but with a click and tactile feedback. The white is comparable to a stiffer version of the blue in that they both share the click.
Heavy tactile feedback. Audible click. 65g actuation force.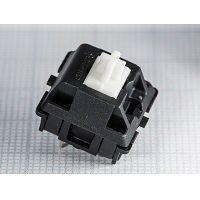 Other Switch Types
There are other switch types which include mechanical switches not made by Cherry and other less common cherry switches. Chances are that if you are looking at a board with a switch not mentioned in this guide, then you are a bit too overqualified to be reading this guide.
ALPS Mechanical Switches
ALPS keys are a type of mechanical keyboard switch that was in direct competition with Cherry MX (think Coke vs Pepsi), although not as widely used anymore they can still be found in old Dell and Apple mechanical keyboards and like Cherry MX are widely copied in Chinese gaming boards.
White ALPS are basically the same as Cherry MX Blues (tactile and clicky), Black ALPS are like MX browns (tactile, but non-clicky), and they are once again growing popularity like Cherry keys due to the rise in popularity of "gaming" keyboards (plus they are easier to make decent copies of than Cherrys so the is a growing amount of ALPS boards coming out of China) and companies like Ducky, Matias, DSI have recently launched ALPS boards in addition to their Cherry line-up.
Mechanical Keyboard Key Rollover
Many Mech boards offer a feature called key rollover. This term describes how many key presses can register at one time. You will find that many people would never need this feature, especially when typing. But for gamers, it can be quite important.
N-Key Roll Over [NKRO] means that you can in theory hold down all the keys on your board and every key press would register. This is generally achieved using the older style PS/2 connection.
6 Key Roll Over [6KRO] allows you to press up to 6 keys at once as well as 4 modifier keys [ctrl, alt, shift, windows] This is usually enough for gaming applications and is usually implemented on boards with a USB connection due to the limitations of USB protocol.
Mechanical Keyboard Keycaps
another cool thing about mech boards is the ability to customise your board. most boards come with a puller to pull your keycaps off for cleaning purposes. however, you can swap your keycaps over to mod the look of your keyboard.
A cherry switch is literally a cross shaped slot and the keycap pushes into place with minimal fuss. This is a great way to get a unique look.
If you are feeling brave, you can also get blank key caps for your board for ultimate 1337 points
Mechanical Keyboard O-Rings
Also known as Switch Dampers. A common mod to stop the noise and 'bottoming out' feeling on some mech boards can be to attach o-rings to the bottom of each key cap. This modification is supposed to slightly decrease keystroke travel, extend the life of your board and also keep things quieter. In honesty, this is a personal preference. They come in a wide variety of sizes and softnesses. To install, you pull the keycap off and roll them onto the underside of the cap. Easy.
Notes of Thanks:
ubersonic for great overview of ALPS Mech Switches.
Last edited: